Poster
Antibody-Antigen Interface Design via Hierarchical Structure Refinement
Wengong Jin · Regina Barzilay · Tommi Jaakkola
Thu Jul 21 03:00 PM -- 05:00 PM (PDT) @ Hall E #205
Computational antibody design seeks to automatically create an antibody sequence that binds to a given antigen (e.g., a viral protein). The binding affinity is governed by the 3D binding interface where antibody residues (paratope) closely interact with antigen residues (epitope). However, existing generative models for paratope design do not model the 3D interaction with the epitope. To this end, we propose a novel generative model called Hierarchical Structure Refinement Network (HSRN) that unravels a paratope sequence autoregressively together with its associated backbone and side-chain 3D structure for any given antigen. HSRN employs an equivariant hierarchical message passing network to represent all atoms in the binding interface. HSRN significantly outperforms prior state-of-the-art on contact prediction and paratope design tasks.
Author Information
Wengong Jin (MIT)
Regina Barzilay (MIT CSAIL)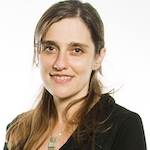 Regina Barzilay is an Israeli-American computer scientist. She is a professor at the Massachusetts Institute of Technology and a faculty lead for artificial intelligence at the MIT Jameel Clinic. Her research interests are in natural language processing and applications of deep learning to chemistry and oncology.
Tommi Jaakkola (MIT)
Related Events
(a corresponding poster, oral, or spotlight)
More from the Same Authors